(Posted June 2001)
The Rhino Charge is an off-road car rally held every year in Kenya, in which teams of drivers, navigators, scouts, and tire-changers compete on a vehicle-punishing course across the dry African back-country. This year, fifty-one teams took the challenge; only eleven finished. The event raises money towards building a fence around Kenya's Aberdares National Park and establishing a sanctuary for the endangered black rhinos.
The location of the rally is a closely-protected secret until the last possible moment. Even up to the day before the event, only the general district is known outside the inner circle of organizers. Rally drivers and spectators go to a rendezvous point on the day before the event -- this year, a hotel in the town of Nanyuki -- to pick up instructions for getting to the actual site of the rally.
When we arrived at the site, feeling like rally drivers ourselves for simply having found our way across the rough back roads of rural Kenya, we found hundreds of people already in the camping area. The teams entering the race were making last-minute adjustments to their vehicles, checking their equipment, and having specially-calibrated odometers attached to their wheels by rally organizers. It was already getting dark, so we quickly made camp and turned in for the night.
The night before the event begins, teams are given maps of the area and co-ordinates of twelve checkpoints they must visit. They are not allowed to scout the terrain in advance. In the morning, they are escorted to their starting points and given the signal. Their goal is to visit all twelve checkpoints and return to rally headquarters before the end of the day, in the shortest distance possible. Time is not a factor in determining who wins, except that all teams must be out of the bush before dark. Distance, not time, is what makes a winner in the Rhino Charge.
The shortest possible route connecting all of the checkpoints, composed of entirely straight lines, was 45 kilometers. But driving a straight line in the African bush is impossible. The checkpoints are chosen so as to force teams to make difficult choices. Go through the ravine, or around it? Take the longer, easier trail, or cut straight across that boulder field? The most direct route is also probably the slowest and the hardest on the vehicle. Successful teams balance distance, speed, and difficulty to enable their vehicles to survive the course, and to complete the route before nightfall.
The British Army team won the admiration of the crowd by winching their vehicle straight down a cliff instead of going around the obstacle. However, after this impressive maneuver, they got two flat tires, used both of their spares, and then got a third flat which forced them out of the race. Next year, they may fill their tires with solid foam. This gives a rough ride and destroys the tires, but makes them immune to punctures.
Life at a checkpoint is quintessentially African. For long periods, nothing much happens. The sun beats down on the rocks, the supporters of each team sit quietly in the shade, fanning themselves, or perhaps playing cards. The organizer's radio squawks out the odometer readings of teams as they pass other checkpoints.
Then a team approaches. Scouts dash through the bush ahead of the vehicle, looking for the shortest and safest path. Others hang from the back of the bouncing rally car as the driver twists and turns the wheel. People are running everywhere, shouting, waving. The team's supporters crowd the vehicle, slapping their friends on the back and encouraging them. The driver chats with the checkpoint organizers, a teammate grabs some drinks. They swap crew positions, check their GPS readouts, and gun the engine as they head off for the next checkpoint in a swirl of dry red dust. When the dust settles, all is quiet again, save for the slapping of cards as the spectators return to their poker game.
The course is punishing for the vehicles, and mechanical failure is the main reason for teams not finishing. One by one, announcements came over the organizers' radios. One team "retired on one-wheel drive." Another car was abandoned in the bush, hung up on a rock.
It can be punishing for the people, too. It's not only tiring to spend the day dashing through the bush under the hot African sun, it can also be dangerous. I heard the story of one unfortunate fellow who was riding on the back of one vehicle and was unprepared for a particularly large bump. He doesn't remember falling off, but he lost most of his teeth when he smashed his face on the roll bar.
It's not just the team with the toughest car that will win the rally, although that helps. Teams use all sorts of techniques to gain an advantage. Global Positioning System equipment is essential for keeping track of one's location, and computers make short work of the task of plotting the shortest route. But local knowledge is also indispensable. Rob, the driver for one team, said that being able to recognize species of trees from a distance is a help when planning a route because the trees tell you the soil conditions. Some kinds of trees grow in sandy soil that might trap the vehicle, while others grow in firm or rocky soil that allows swift progress.
For the most part, the Rhino Charge is far removed from the everyday life of the local people. It's very much an event put on by and for expatriates and wealthy white Kenyans, the so-called "Kenyan cowboys." One can only wonder what went through the minds of the local cattle herders who peered down at the goings-on at the checkpoint sponsored by the mobile telephone company, and moved their animals along the dry riverbed past Checkpoint Coca-Cola.
This year's Rhino Charge raised 16.8 million Kenyan shillings (US$216,000) towards the construction of the fence around the wildlife sanctuary. It's ironic that one of the biggest environmental conservation fundraisers in Kenya consists of people racing through the bush in four-wheel-drive vehicles and tearing up the landscape.
At the end of it all, the cowboys retire to the beer tent erected behind headquarters to swap stories, drink Tusker beer, and dance. The winning team managed the 45 km course in an actual travelled distance of 51 km -- straight as a rhino's charge.
For more information about the Rhino Charge, visit the Rhino Ark web site.
August 5
I didn't sleep much on the train. I never sleep well in vehicles. I regrouped with Massimo at the bicycle car upon arrival at 7:00 am. We unloaded our bikes, and walked out of the station to look for breakfast. We went to a cafe across the street from the station, where a fellow in a business suit, presumably on his way to work, was having his morning beer. Ah, Bavaria! I ordered a piece of pizza and a Coke. Massimo was lost without his brioche. We ate for a while and I eavesdropped on the conversation at the next table -- a tourist at his table talking with a German at the next table in English. The German was saying that Germans are outward-looking people and like to learn new languages, whereas in France they refuse to speak anything other than French.
We went back into the station to the EurAide office, which I highly recommend for their helpfulness, although I hesitate to mention them because they are already massively overworked and I don't know if they can handle any more enquiries! I got information on "The Tent", where you can rent a space for your sleeping bag in their large tent, or camp on your own for only DM10 per night -- a real bargain in Germany. We went to The Tent and checked me in, and I pitched my tent. Then we went back to the train station to catch a guided bike tour of the city. We didn't make it back in time; Massimo is a very slow biker, it surprises me that he's headed out on a long-range tour. We toured on our own for a while, bought some food at Viktualiensmarkt (an outdoor food market, rather expensive, it seemed to me) and then ate lunch at the Alte Botanische Gartens.
We then joined the afternoon tour with Radius Cycle Tours (DM12 if you have your own bike) and toured around town with Mike. Not to be confused with Mike's Bike Tours, the other guided tour company in the city. The tour was cheap, and Mike was interesting but not terribly exciting. It was a long tour, and the crowd was friendly and social. Massimo was completely lost, though, as it was all conducted in English.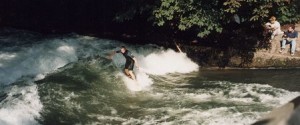 After the tour was over, I left Massimo at the train station, where he was preparing to catch his train to Denmark. I headed out to buy a German phrasebook, which unfortunately didn't get much use. It felt like a long day and I accomplished a lot. Well, it was a long day, I didn't sleep on the night train and I started the day at 7:00 am!
Munich is a lovely, lovely city. It's tidy, clean, and uncrowded. Perhaps this is partly the sudden contrast with Rome. In Rome, driving is a free-for-all, and on a bike at least, breaking rules like riding the wrong way down a one-way street isn't just acceptable, it's necessary. In Munich, to break any rule is to break apart a carefully-assembled jigsaw puzzle. Everything is carefully laid out and designed, and it all works. One always follows the system, and one has confidence that the system will work, which is not the case in Italy.
I saw a group of Munich traffic cops in white jackets and gloves, directing traffic like they're directing a symphony orchestra. The officer holds his hand up imperiously, walks slowly, smoothly, gracefully, and, I kid you not, bows to a transport truck as he waves the driver through.
Munich has beautiful parks and gardens everywhere, everything is neat and tidy. People are polite. If someone is standing on a bike path as you approach, they will jump back guiltily out of your way. There are bike paths everywhere. I really like Munich. And I can sleep cheap at The Tent. Now all I need is to find cheap food.
August 6
I was going to spend the day in Munich, but at the last moment I decided to make the trip to Dachau. An easy 1 - 1.5 hour bike ride from The Tent, on bike paths almost all the way. I love Munich! Just go up Dachauerstrasse, and follow the signs to Dachau and the KZ-Gedenkstätte.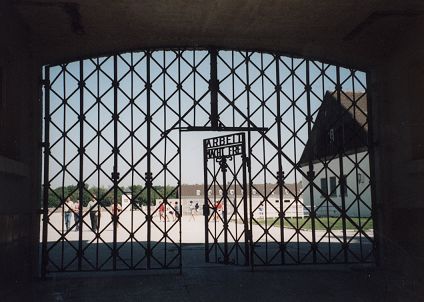 The concentration camp memorial is free to enter, and there was a free guided tour at 12:30. The tour group was, unfortunately, much too large. The guide spoke very slowly, probably to make sure everyone understood, but at one point someone in the group muttered that it's probably only a half-hour tour but she talks so slowly that it takes three times as long. I bought a copy of the museum souvenir book (DM25, available in many languages) which was useful but I didn't keep it with me all the way as it was rather large and tended to get banged up in my bags. I ditched it as excess baggage some time later. It's tough to pick up souvenirs when biking.
The museum basically consisted of blown-up reproductions of documents from the time. The souvenir book duplicates the museum and in fact the exhibit works better as a book than it does as a museum. Everything was in German. There is a film which runs several times a day in English and in German, which was very worthwhile.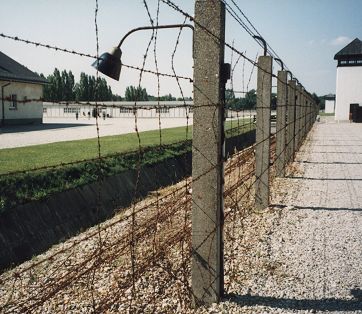 I think it must be awkward, in a way, to live in Dachau now. The name of Dachau is known worldwide for only one thing, the concentration camp, so whenever you tell someone where you are from, that's what they'll think of. It's actually a pleasant little suburb of Munich, and there's a sign from the town council outside the camp urging visitors to please, please visit the rest of the town
I wasn't as moved or as shocked as I expected to be. Maybe I felt that I already knew the story so it was not a shock to me. Maybe it was because this was a concentration camp, a work camp, and not a death camp. I thought a lot about Aleksandr Solzhinitsyn's book One Day in the Life of Ivan Denisovitch, which relates the experience of a Soviet concentration camps under Stalin. So many features of the Dachau camp were identical to the camp described in Ivan Denisovitch that I presume there must be, somewhere, a manual on how to run a concentration camp. A sort of primary textbook or reference on the subject. Strange to think of such a thing existing.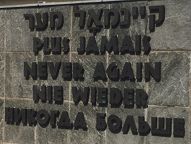 I like German food, by the way. It's simple, hearty, and based on strong tastes. Onions, potatoes, pickles, sauerkraut, cheese, and bread. Oh, the bread! Every bread is "lead bread", every bread is multigrain or at least not white. (Ok, it is possible to get white bread rolls, "semmeln".) The variety is nice, I like it much better than the Italian "hollow roll" approach. There's plenty of cold cuts and wurst, too, but I haven't tried much of that. And the bread really is dense, loaves which are half the size of North American loaves weigh the same.
August 7
Well, I bought my ticket to Berlin. I'm regretting not cycling in Bavaria, and not going to Prague, but I made my choice. Tomorrow night I go. I bought it at the EurAide office, again very nice and patient service. I really felt like I was in the rhythm of travel. Here I am, seeking out bargains ("I can leave any time in the next three days, are there any specials? Yes, I can leave at any time of day."), taking night trains to save on accommodations, and doing all those things that backpacker travelers are supposed to do. Today I regretted the fact that time is running out. Only four more weeks.
I spent the afternoon at the Deutsches Museum, a large technology and engineering museum. Interesting, but not to rave about. I guess I wasn't really in the mood.
August 8
I spent today doing nothing. I did a bit of bike-cleaning in the morning, dropped my baggage in a locker at the Hauptbahnhof, bought some groceries, and bought a book (Sphere) at the EurAide office in the Hbf. Then I went and sat in the Englischer Garten reading. Just sat and read and ate all afternoon, and I finished the book. I later hung out at the Chineser Turm for a while, a radio station was sponsoring a concert there but all I saw was some recorded music and prize draws.
On my way back to the Hbf, I got my first flat tire in Europe! Glass in the front tire. By the way, there's a type of tire valve in Germany that I haven't seen before. In North America, there are Schrader (automobile-style) and Presta ("French") valves, but there's a third one here that my pump doesn't fit. I know this because while I was pumping up my tire, a German stopped and asked if he could use my pump too, but it didn't fit his tire.
Had a beer and some Internet in the Internet cafe in the Hbf. Realized that I'd missed an emailed invitation to visit an acquaintance in Geneva.
The German railway is a whole lot spiffier than the Italian Ferrostradale. The two Italian conductors who brought my train into Munich were all disheveled and hanging out everywhere. The conductor on this DB train marches along smartly and carries a computer on his belt. At every turn, the German reputation for order, efficiency, neatness, and organization is being confirmed for me. Of course, things are more expensive here, too.
August 9
The day after a night train is always a little odd. Comes from lack of sleep, I guess. It makes for a long day.
I arrived at Berlin Zoo station, hopped off quickly, collected my bike, and the train moved on to the Hbf. My front tire was flat so I changed the tube on the platform, dumped my gear in a locker, and went on a walking tour. "The Walk" was quite good. The guide, Greg, was animated, and seemed interested; this was the first of the tours I've taken where I didn't think "I could do better." And it only cost DM10.
Afterwards, I was pretty tired and had a hard time making decisions. Finally I went out to the "young backpackers' camp" which is pretty far from downtown (i.e. not on my maps) and was hard to find at first but now that I know where it is, it's not so bad and there are plenty of bike paths. It took me two hours the first time, though. Finally I found it by consulting the detailed neighborhood and transit maps that are posted at every bus stop. The hostel is similar to Munich's "The Tent" but slightly less fancy. And still only DM10, which is a huge bargain for Berlin.
August 10
Today I went to Haus am Checkpoint Charlie, and was surprised by how much I didn't know about the Berlin Wall. Eighty people were killed by border guards trying to escape East Germany. People were climbing it, digging under it, and smuggling across it all through the 50s, 60s, and 70s. The wall had guards with shoot-to-kill orders, minefields, killing zones. And it came down in And still only DM10, which is a huge bargain for Berlin.
August 10
Today I went to Haus am Checkpoint Charlie, and was surprised by how much I didn't know about the Berlin Wall. Eighty people were killed by border guards trying to escape East Germany. People were climbing it, digging under it, and smuggling across it all through the 50s, 60s, and 70s. The wall had guards with shoot-to-kill orders, minefields, killing zones. And it came down in 1989. I remember the fall of the wall, but I was too young to remember it at its height of infamy, and I guess because of that I never really understood what it was all about. On the eastern side, the land was cleared to create a featureless plain. On the western side, people would walk up to it and paint on it, and when people on the west side heard gunshots over the Wall, they would gather and demonstrate. The museum is worthwhile, although very crowded. 8DM, discounted if you can dig up a group.
The depressing thing was the parallel that the museum pointed out with other freedom struggles: India, Czechoslovakia, Poland, Philippines, and more. A reminder of how many people are even today screwing each other over in the worst possible way.
The Wall itself isn't quite as big a deal as I had expected it would be. Perhaps Berliners prefer not to be reminded of it. There are a couple of places where sections of the Wall are still standing, and at one spot you can even touch it. Someone was whacking a corner of it with a hammer to collect a piece. At the time, I thought that was silly, it's just a lump of concrete, and once you knock a piece of it off, there's no way to tell it from any other lump of concrete. And yet, the Berlin Wall is not just any old piece of concrete.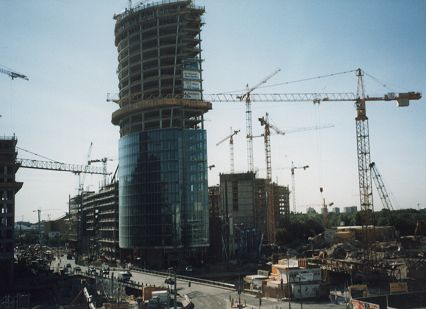 Berlin is madly under construction. Cranes stand across the skyline, building everything you can imagine: a new parliament building, a new railway station, and buildings of all kinds. Potsdamer Platz is touted as the world's biggest construction site, and that's not hard to believe. Where the Berlin Wall once stood, the land was cleared on the eastern side so that there would be no cover for people approaching the wall. Now this land is prime real estate, right in the middle of the city. The InfoBox is an building on stilts containing exhibits explaining the construction and how it is all being co-ordinated, with a lot of emphasis on the environmental planning aspects.
Went back to the hostel in the evening and chatted with the two Brits in my tent. They're doing a one-month whirlwind tour: Netherlands, Germany, Poland, Hungary, Greece, Italy, France, Spain. Only a couple of days each, no pause for breath.
August 11
Went to the Ethnology Museum today. It's in the southwestern part of the city, on the grounds of the Berlin Free University. It only costs DM4, and is well worth it. It has an extensive collection of items covering four continents and many time periods, with identification but not a lot of context. Almost everything is in German.
August 12
Rode 222 km today, a new record. That's 140 miles to you non-metrics. Berlin to Schwerin by back roads and only one little detour. The hostel was hard to find, but in a beautiful location on a lake.
August 13
Rode about 70 km to Lübeck. Cold, rainy, headwind. Demoralising. On arrival, it was raining and I was tired and couldn't make decisions. Finally I settled on an urban campground, Campingplatz Schönböcken and booked two nights.
August 14
Did some bike cleaning in the morning, and then headed into town. Walked around the old town for a while (I'm getting a little blasé about "old towns," I think), did some shopping, and then sat on the riverbank for a while.
In the evening, as I was waiting for my laundry to dry, I went for a walk around the suburbs and used my walkman for the first time in Europe. The first three songs I heard were by Gordon Lightfoot, Leonard Cohen, and the Kingston Trio. There's something odd about that. Part of my dissatisfaction with Lübeck is that it looks too much like home. Really, I could have been walking down the streets of almost any North American suburb and it wouldn't have looked much different.
August 15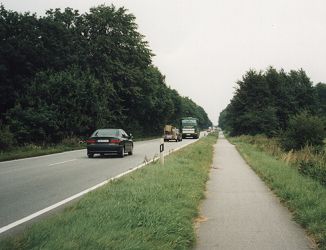 Rode to Hamburg. I would have given it a miss, but my map suggests to me that there are not many bridges further down the Elba River, so crossing might be more difficult. Reminds me of the story we were told about Munich: that Munich is where it is because two people built bridges, and one guy burned down the other's bridge so the traffic would pass through his town. So, Hamburg gets my business. The hostel is a large industrial one, but nice. Good common facilities. DM29.
I don't like Hamburg all that much. It's the most littered German city I've seen, including Berlin (in Berlin, spraypaint is everywhere, but not litter), and the drivers in Hamburg are the worst in all Germany. I was honked at for the first and second time in Europe here, and had two near accidents.
Oh, and I got excited over wind power generators. We don't have them where I come from, and I'd never seen one other than in pictures. They're big. Like, really, really big. And the blades spin fast. Like, really, really fast. It's not fast like an airplane propellor, but the blades are so long that if you watch the tip of a blade, and consider how great a distance it is traveling, it's moving really, really, fast.
At night I took a stroll down the Reeperbahn, which is supposed to be the sort of red-light district, I guess. No big deal. Also strolled through the Hamburger Dom, which is a sort of carnival with rides and cotton candy.
August 16
I got up late, and got thoroughly lost in Hamburg's "free port" (a customs-free warehouse zone where goods can be stored and transferred without paying duties because they're not considered to have entered the country until they leave the port) and southern suburbs. It took me three hours before I determined I was on the right road out of town. That's yet another reason why I think that Hamburg is somehow not really part of Germany. I felt like I was moving so slowly all the way to Bremen, but I saw a bicycle race on the way. I got to Bremen late and had trouble finding the hostel; I didn't check in until 8:30 or 9:00 pm. And it cost DM32! German hostels are so expensive. Tomorrow, I'll treat myself to the Beck's brewery tour.
August 17
The Bremen hostel has the best breakfast buffet I've seen yet. Yay! Unfortunately, I discover that Beck's doesn't do brewery tours on Mondays. Argh. I bought train tickets to Deventer (DM91), in the Netherlands.
The only useful thing I did today was go to the Markt in the evening, the old town square. There is a very nice old church, very well-preserved, or actually I should say well-reconstructed, since most of the old buildings that you see in Germany were actually destroyed or at least severly damaged during the war, and what you see is a reconstruction. There are very nice looking reconstructed old houses, a beautiul rathaus, and so on. In the evening there were booths selling food and drink (expensive, DM4.50 for 1/3L; I picked up a couple of 500mL cans of beer on the way back to the hostel for DM3.60).
August 18
I'm sharing the hostel room with some German high-school kids, who were up until 2:30 am, coming in and out, bringing their friends in, and so on. Annoying. But I get myself to the train station in the morning, and zip-zip to Osnabrück and Deventer.
One unusual thing about this trip is that I haven't been doing much reading. Normally when I travel, especially by train or plane, I buy newspapers, magazines, books. But English magazines here cost DM16-25, and even newspapers like The Times cost DM6. So I get no news, I'm isolated from the world.
I wonder what percentage of Canada's population is outside of Canada at any given moment? It may be quite a lot. There are a couple of Canadians in every hostel in Europe, probably a bunch in hotels, a few in the big train stations. How many other Canadians are riding DB trains right now? I'm not the only Canadian on this train, I saw a guy with an MEC backpack and a Canadian flag get on.
I got off the train in Deventer, and rode through the marketplace. It was similar to German town squares, but subtly different somehow. And rode south to Arnhem.
Bicycle paths are fabulous here. Germany was good, but the Dutch are fantastic. The trails are well-marked and have direction signs and distances to destinations. There are lots of cyclists. I was interested to see a back-to-back recumbent bicycle. That was an interesting contraption. Two people sit back to back, one facing in each direction, and very low to the ground. When they stopped for a traffic light, one reached out and touched the ground with his hand to keep the bicycle upright. And man, they were fast!
On the way from Deventer to Arnhem, I passed through the town of Zutphen, and did a double-take when I noticed that the bridge I crossed was labeled "Canadians Bridge". During the Second World War, Canadian troops liberating Zutphen entered the town by this road, and they named the bridge in commemoration of the fact.
I arrived at the hostel, after a long, agonizing period of indecision. Go to the hostel for f30, or the campground for f10? I decided on the hostel because I wanted to meet meet people, which I knew I wouldn't do in the campground. It turned out to be the right decision, I met several interesting characters. Nils from Sweden sold everything and is bicycling to Tenerife. He plans to be away for two years. He phones Sweden now and then to give little travel stories to a radio station back home. Nathan, from the USA (born in Alabama, now lives in New York City) was quite a character. He's a seminary student, very interested in languages, has a two-year-old son named Troy, and his Dutch wife just gave birth to another boy yesterday here! There were quite a lot of cycle-tourers here.
August 19
Breakfast was moderate - the bread was lighter and whiter than German bread, plus cheese and coldcuts, jam and peanut butter.
I went to the Openluchtmuseum (open air museum) today. They had an indoor parking shed for bicycles, cost f1. Ah, to be so civilized regarding bicycles. I was right in line as they opened the gates to the museum -- boy did I feel organized! Except that I should have left my day bag at the hostel instead of lugging it around, because the hostel is so close to the museum. The highlights for me were the paper mill and the bakery selling fresh bread. I like fresh bread. There was a nice play area for children, with various kinds of active toys -- pogo sticks and scooters and so on.
Next stop was the Airborne Museum. It was a reasonably good exhibit. I went there primarily because I had played the computer wargame, Close Combat II: A Bridge Too Far, which is set in this area.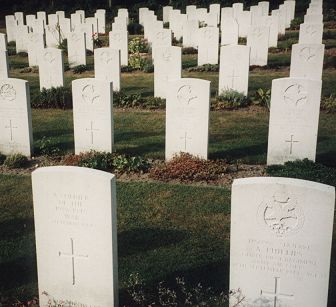 My last stop of the day was the Arnhem Oosterbeek War Cemetery. Unexpectedly, I cried. I admire simplicity -- and military cemeteries are simple. There is no distinction of rank or position, no headstones larger or smaller than others, just row after row after row of clean, white stones. The impact, and the implications, are stunning. The memorials were all very well kept. There was another memorial to air despatchers just down the road from the cemetery, with fresh flowers. Many of the graves appeared to have been recently visited -- and yet they are all British, American, Canadian, or other foreign soldiers. World War II has not been forgotten here.
I've decided to go all the way to Amsterdam tomorrow. It's only about 100 km. Hit the road early and I could be there by... well, I tried to play that game from Hamburg to Bremen and lost miserably. I won't predict, I'll just say that I'll make it some time tomorrow.
August 20
I waited until 11:00 (the earliest that you can book ahead), made a reservation at the Vondelpark hostel in Amsterdam, and hit the road. The ride to Amsterdam was uneventful, and I checked in to the Vondelpark hostel at 19:21. There were lots of bike paths in the countryside, and I followed a beautiful scenic canal-side road from Utrecht. After arriving, I went for a walk in the park. There was an anti-racism rally going on in the memory of someone named Kerwin. An outdoor jazz concert, too. Nice.
I didn't know this at the time, but on August 20, 1993, a 15-year-old boy named Kerwin Duinmeijer was stabbed to death in a racist attack. Kerwin was black. There is a memorial statue to him in Vondelpark, and every year on August 20, people gather in remembrance. There are not many English web sites that describe give details (there are many more in Dutch), but try this one: http://come.to/kerwin.
August 21
It was raining heavily this morning so I ate two leisurely breakfasts and took a long time before finally deciding to go outside. I walked around for a bit, bought a ticket for the Heineken brewery tour (all proceeds donated to charity), and killed a couple of hours waiting for it to start. The tour itself was rather dull, actually; a series of slide shows about the history of the company and the beer-making process, a couple of beer commercials, and a walk through a few parts of the former plant. They don't even make beer here in the centre of the city any more, because of the smell, they've moved their plant somewhere else. The reason that people go for the tour at all is that it ends with a half-hour
[Text missing - corrupted file]
Time for the guided tour of the city. The company: Mike's Bike Tours, Amsterdam. The guide: Andrew, the Scottish wannabe stand-up comic. The start of the tour was very, very disorganized, and after all the introductions, the hemming and hawing, the platitudes and so on, we got started about half an hour after the advertised time. The tour didn't include very much about Amsterdam history, it was mostly about clubs, bars, beer, and drugs. Andrew really enjoyed making fun of people in the group, and picked on one poor fellow incessantly. It was heckling to the point of rudeness. The tour included a mandatory stop for a drink at Bar Chicago in order to promote their evening shows. There was a lot of cross-promotion throughout the tour. It was sort of fun, but it wasn't everything that I wanted. Maybe I'm unusual in that I didn't come to Amsterdam in order to get high.
I see that 7:00 pm in the hostel is when people sleep. I returned for a nap, and from my bunk I can count 10 other people in the room sleeping before heading out for the night. So I went out and saw the red light district. It struck me that most of the ladies did not appear to be Dutch -- I thought that most seemed to be Asian. Later, coming back through town, I stopped and hung out in the square called Leidseplein, where a South American band was playing. You know them, you've seen them -- or their cousins. There's probably one such band playing their pipes and drums and miniature guitars in the streets of every major city in Europe.
August 23
I think the Vondelpark hostel is probably a good place to catch a cold. No-one gets enough sleep, and I'm seeing a lot of people coughing and sneezing. This is starting to include me. I wonder what interesting microbes must be in the pots of jam and chocolate spread at breakfast.
And that was that. I bicycled to the airport at the appointed time -- there is a very nice forest park on the way which I almost got lost in, but I managed to find my way through and bicycled right up to the airport. How many airports can you easily reach by bicycle, with bike paths all the way? I love the Netherlands. I killed a few more days in Toronto before catching a train back to Winnipeg and returning to real life.
I haven't done a trip of similar scale since then, but I'm feeling the need. I'm still riding my bike every day, but I haven't had the time to take an extended holiday in a long time. Perhaps I will soon. I hope so.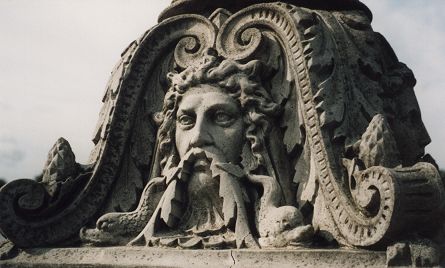 July 17: Nice - Menton
I reassembled my bike behind the car-rental booth at the airport and proudly rode across town. The youth hostel is well-signed. That was a pattern in Europe: HI hostels all seem to have direction signs posted around town, or at least from the train station where hostellers are most likely to see them. Definitely not the case in Canada. The Nice hostel (where I had tried to reserve in advance without any luck) was full, so they said go on to Menton, 30 km farther. I tried to get there before 12:00 (they close for the middle of the day) but didn't make it. The Menton hostel sits on the top of a high steep hill, and you can either take the road or a long staircase, the Escalier des Oranges. I started to walk up the staircase -- big mistake! I carried my loaded bike all the way up. All this on only an airline breakfast and almost no sleep.

Also at the top of the hill is the town campground. I talked for an hour with a guy who had been sleeping in his van in the parking lot, and emerged just as I was looking around. I waffled for a long time and then decided to stay in the campground. I left all my worldly possessions in my tent at "Camping St. Michel" and dropped back down into town for groceries. Stopped at a few fruit markets and other food stores, and strolled the pedestrian mall.
The road runs along the shore, with beach on one side and buildings on the other. Rows of restaurant tables on the beach, and waiters dashed across the street carrying plates of food.
The drivers here are quite nice, they give me lots of room on the road and even wait politely to pass me. There were other cyclists, but they were mostly jersey-clad precision teams, looking as if they might have aspirations for the Tour de France.
The scenery is totally beautiful and spectacular, the mountains dropping into the sea. I fear for my brakes, though.
July 18
Up late, left the campground and took the D-road into Monaco. There I got stuck for a while, because I had a hard time finding my way through to the west side. Obviously a rich place, everything screams money. Finally I arrived at Cap d'Ail to find that the lunchtime closing that the guidebooks talk about is real. The tourist office was closed until 14:30. So I had lunch at the top of a long staircase leading down to a ravine. There is a beach of some kind down there. A conservative one, I guess: the sign at the top of the stairs reads "nudisme interdit".
Returned to the Cap d'Ail tourist office. An American woman was there tending scrapes on her knees, she's headed east on a rented bike. I got directions to the hostel, and went down to it and waited for it to open.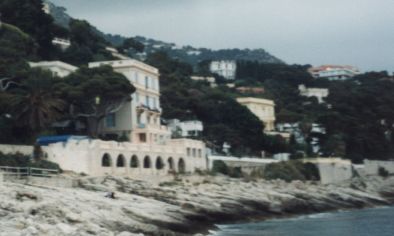 The Cap d'Ail hostel, the "Relais International de la Jeunesse" is very nice. There's a large school group (Polish, I think) staying there, and I sort of got the impression that the hostel manager was tired of the tour group. It's not the best-organized hostel in the world, but the location is fabulous, right on the seashore, with a rocky beach. Cap d'Ail is a small town and food seemed fairly cheap. I'm living on bread, tomatoes, emmental cheese, and fruit.
I had trouble mixing with people at the hostel at first, but was adopted by Sarah from New Zealand, who was very nice. On Sunday, Sarah and Rebecca (from the USA) and I walked along the beach to Monaco. It was a beautiful 45-minute walk.
Monaco is, as I said before, rich. We walked around the port and saw enormous sailboats and motor yachts. We went up to the casino but didn't go inside. Up to the palace square; the girls left to return to the hostel, and I visited the Napoleonic museum and palace archives. 20F. I wasn't too impressed, actually. There were some neat things about Napoleon. I got interested in a collection of documents that he signed. In the beginning, he signed his declarations "en nom des peuple francais" (in the name of the French people), and gradually he accumulated more and more titles: "Emporer of France, King of Italy, Moderator of the Swiss Confederacy, etc, etc." His signature changes over the years, starting fairly simple, becoming increasingly grandiose, and then at Elba he returned to a simpler, readable writing. Mostly the museum is a collection of documents he signed, old medals, socks he wore, that sort of thing. The Monaco history part was disappointing, too. Actually, my best explanation of Monagasque history came from a pamphlet handed out at a tourist information booth. I asked a girl in a tourist info booth at the docks, and she gave me what she had handy. Then I walked away, and she came running out of her booth and chased after me to give me another pamphlet.
Went to check my email at "Stars 'n' Bars", which is just what it sounds like, an American bar on the docks. 40F for half an hour. Returned to the hostel, ate supper on the beach, and then went for a walk into town with Sarah and Rebecca. We ended with a beer at a beachside bar in a perfectly lovely setting. I guess the Australians trying to pick up girls at the bar were part of the classic stereotype too, although they were a little bit annoying.
Oh, by the way, my tan from biker-shorts and t-shirt is dreadful-looking.
I'm settling in and feeling really happy and comfortable. I've done a day in Nice, a day in Monaco, am now I'm quite comfortable in Cap d'Ail. Perhaps its time to move on.
Walked in Old Nice for a while. Interesting. The best thing about it is that the streets are very narrow and the buildings rather tall, so there is plenty of shade. A good thing to do on a hot day. Plenty of cafes. There are lots of cities in North America which claim to have "the most restaurants per capita in North America" but they all must come in a distant comparison to any French city. Lots of clothing stores, and souvenir shops. It's also worthwhile to take a turn or two off the main tourist alleys and walk down a real street or two. It's like going backstage. You can look back and see the crowds passing on the tourist street while the side street you're on is empty.
Also looked through the giant rummage sale and junk collectors' meet (the "Marché à la brocante / Antique and Flea Market") in the Cours Saleya, off Quai des Etats Unis. Worth it if you're a junk collector, I suppose but not for a backpacker, because you have to carry what you find.
It was impossible during the middle of the day to find exchange bureaus downtown, they were all closed. So I ended up going out to the airport -- actually not very far -- and got a bad rate (3.68F for C$1) but I did make an interesting discovery: automatic bill-changing machines that accept bills from any of a dozen different countries and give you back local currency.
Cap d'Ail is a village, one of many along the coast. There are two ways to get to Nice: the N98 Basse Corniche, or the N7 Moyenne Corniche, which as the name implies runs slightly higher up. There is also the A8, but that's a major highway where cyclists are not permitted. The N7 is straighter, but you have to climb higher to get onto it. The N98 winds along close to the shore; I recommend it as the better cycling road. Close to Menton, the two roads join. The entire area is quite compact, perhaps 20 km from Nice to Monaco and another 10 km to Menton.
Like Niagara Falls, I think you can overdo this area unless your goal is really just to lie on the beach, in which case you're in heaven. But a day for each of Monaco, Menton, and Nice, while based in Cap d'Ail, seems perfect.
A recurring theme in our conversations at the hostel is how much the local residents must hate the tourists. The locals (who actually are probably only part-time inhabitants, the houses are all probably rich peoples' holiday villas) live in their villas behind high prickly walls and gates, allowing no sign of themselves to show.
Interestingly, evening is a popular time for departures from the hostel -- people taking night trains, I suppose.
Rebecca recommended to me the Cinque Terre, Budapest, and Salzburg.
On the morning of my (and her) last day, I gave Rebecca my copy of Neither Here nor There on the condition that she pass it on to another traveler. I wonder how far that book will get.
So I'm off to Italy.
FINALE LIGURE: THE ITALIAN RIVIERA
Entered Italy at 10:20 am, just outside Menton. There is an old border crossing station there, but it's boarded up and there are no border controls at all. For that, if nothing else, the EU is in my opinion a good thing.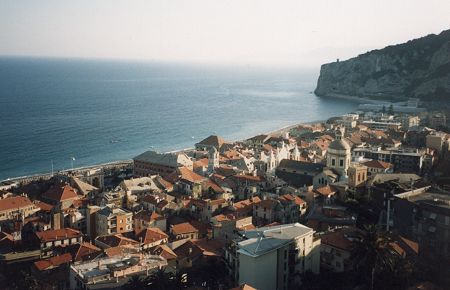 The ride from Menton through my first piece of Italy was pretty bad. The road is solid city for a long time, very busy and crowded. It did get nicer as I went farther along, and the views were continuously spectacular of course.
About 5 km south of Finale Ligure, an Italian guy drafted behind me for a while. When I pulled over to check my map, he stopped, came back, and asked where I was going. We settled on communicating in French. He led me to the hostel in Finale -- he knew the place and was friends with the fellow at the desk -- bought me a beer, and we chatted for a while. He lives in Savona. He invited me to come on a ride with him tomorrow into the mountains and the area around Savona. I said, great!
I think I like Italians. I had the most wonderful experience buying food today. I went to a little shop and tried out my few phrases of Italian, and chatted with the shopkeeper as best I could, told him where I was from and what I was doing. He was very friendly and really seemed to enjoy talking. Groceries cost L19,000, which is nicely under budget.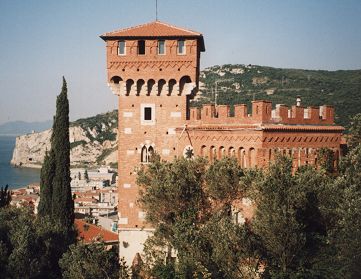 The hostel (also L19,000) is in a very interesting building, a castle-like structure (actually a fairly modern building, constructed in a style so as to look old) on a hill. My room is in a tower.
The beach was interesting. Things get started late: at 9:00 pm, the vendors were just starting to put out their wares. A jazz concert was about to begin. But I left -- I was really afraid that I wouldn't be able to find the hostel in the dark (I hadn't had much time to pay attention to where it was when Rosario took me up there) and I did have a hard time finding it.
Food discovery: Nutella. Evil stuff, as addictive as ever.
22 July
A fabulous day! Breakfast was at 7:30. The hostel provided only two buns and a cup of hot chocolate, not enough to ride a bicycle, so I went up the hill behind the hostel and had a picnic breakfast from my groceries. I met Rosario at 9:00 and we rode around the area. We went first to Borgio, then uphill to a tiny little village that seemed to be huddled together almost as one structure. Stone passageways and narrow paths which appeared not to have changed in a thousand years, except that now the bar has a neon sign out front. (Later, at Ostia Antica near Rome, I found out that things truly hadn't changed, in almost two thousand years.)
Rosario was a high school teacher and certainly seemed to have my "course" well-planned this day. We did a lot of climbing, and visited several small hill towns which were well back from the seashore and thus were less touristy and less crowded generally than the beachfront. We ate pizza and focaccia in a village piazza somewhere. We tried to drop in on a friend of his who wasn't home, and snagged two peaches from the bushes in his friend's yard. I can't say enough about the views.
We then went down to the beach, changed into swimsuits Italian-style (lay a towel over your lap as you change), and swam in the beautiful clear water, so clear that you can see for great distances underwater and it's hard to judge the depth of the water although you can see right to the bottom.
Rosario really knew the area well, he knew just where the water fountains were. There are public water fountains all over, but they're not always obvious or marked. I generally waited to watch someone else drink from the fountain first before I did, just to make sure that at least somebody considered it drinkable.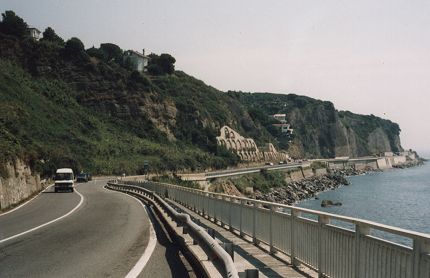 It's hot here, it really is very hot. In the early afternoon, it bakes, the sand on the beach becomes nearly too hot to walk on, the stones too hot to touch. The heat saps your energy, until all I wanted to do was sit under a tree and sleep. I understand now why the first lesson on my "Italian for tourists" cassette tapes introduced the words "ombrelloni", "olio solare", and "scottatura". (Beach umbrella or shade umbrella, suntan lotion, and sunburn.)
Multigrain bread is hard to come by in Italy. The word for it is apparently "pano con ceriali" or "con molto ceriali" but I don't think I ever actually got any the whole time I was in Italy. The fruit, however, is marvelous.
My memory of Liguria is mountain roads, hot sun, castles, old churches, grapes, and peaches.
Memorable line: two Germans who had driven here commented that the advantage of driving was that they didn't have to worry about climbing the huge staircase to get to the hostel. Yes, I said, but you have to worry about parking. "Does it look like the Italians worry about that?" he laughed. "They just leave their cars wherever they want and walk away!" Which is quite true. They also fold their side-view mirrors in, presumably to avoid having them ripped off by the cars driving past their at they were not very sympathique. He'd been trying to communicate in English, they'd had a misunderstanding, and the hostel woman had gotten angry. I figure running a hostel is hard work and the people who do it become tired and burnt out. Some hostels rely on hiring young people, travelers themselves, as short-term workers, which seems to work out better from a customer-service point of view but must be complicated in its own way.
July 23
The ride to Genova was faster than I expected. The part of the route that went through the city was yucky and polluted. I'm sure the scooters and mopeds, which belch blue smoke from their small engines, are responsible for a lot of that. The final approach to Genova was terrible. You enter town through a long industrial section which is not a pleasant drive at all.
I had a very hard time finding my way around Genova. It's a big city, a working city, and not particularly friendly to tourists, it seemed to me. The piazza next to their main tourist attraction -- the aquarium, which is supposed to be the largest in Europe and the second-largest in the world -- has a unkempt, dirty, disorganized feel to it. Almost as if to point out that the port is a working port, and a big one. I had difficulty finding the tourist information office, and then tremendous difficulty finding the hostel. I did get quite a tour of the city, and climbed to the top of one of the hills surrounding the city. Finally, though, I saw the hostel sign and was quickly in the hostel. Once you are on the right track, it's pretty well signed, but you have to spot that first sign. Maybe I'm giving them too hard a time; I guess if I'd arrived by train, I would have seen the trail right away. But I conclude that the most useless maps in the world are those in the directory of hostels which claim to show you the location of the hostels.
I consider there to be two main kinds of hostels. One is the kind you want to stay in: it's in an older building that has been renovated to serve as a hostel, it has odd-shaped rooms and inconvenient passages, and is a little in need of repair, it is the kind of place that makes you want to ask what the building used to be and what it's history is. It usually has interesting and comfortable meeting places, old sofas where you can sit and chat with fellow travelers, and a kitchen for the hostellers to use. It has a small number of beds. The staff are fellow travelers who are staying in one place for a few months before moving on. The other kind of hostel is an "industrial" hostel. It is large, with hundreds of beds. All the rooms are alike. There is a big, sterile cafeteria. The building was probably built specifically for the purpose of being a hostel, or might be a former hotel. The staff are local employees, and probably work for a cleaning company that has been contracted for the building.
The Genova hostel is an industrial apartment hostel, no charm whatsoever. For L22,000 a night I am in a room with eight beds. It's clean, but not interesting.
Food of the day: peaches. Back home, I never understood peaches. They just didn't seem like a very appealing fruit to me -- tasteless, bland, boring. But here, peaches are soft, juicy, sweet, wonderful. I finally understand why people eat peaches.
After dinner, I went down to the Porto Antico (old port) to find a Spanish guitar concert which the tourist office had told me about. I went down one alley, a block off the port, and found the concert, on the steps of a church in a tiny piazza. It was really nice.
Genova, though, doesn't feel safe to me. I didn't feel secure coming home after the concert, even through the hostel's neighborhood. Not that there was anything that justified this fear, but I just didn't feel comfortable. In the area around the Acquario, it's poorly lit and dirty. Maybe I was just sensing the contrast between the beach resorts I had been in the previous few days, and a real city. I think the police presence made me uncomfortable, though. You have to figure that where there is a large police presence, it's probably because there's a need -- and there was a large presence. They tend to walk four or more abreast, and between the three types of police that were there (municipal, state, and carabinieri), there seemed to be a lot of them.
At the hostel, I chatted with a fellow from Minnesota who complained that he couldn't find any grocery stores. I suspected that the solution for him was to stop looking for American-style supermarkets and be content with small European shops.
July 24
In the morning, I went to see the Padiglione del mare e della navigazione, a museum about sailing. Not open until 10:30 so I took a short walk in the old town and bought bread and pizza for lunch. The old town here has smaller streets than I've seen before, more like hallways than streets, and is more crowded than I've seen so far, too.
The Padiglione del mare is very interesting. Admission L9,000. Exhibits on mapmaking, the Italian Istiuto Idrografico, navigational instruments, shipbuilding, and so on. Lots of maps and models of ships. I spent about two hours. Most of the labels were in Italian but there was some English as well. I was surprised to find that I was pretty much the only visitor! The museum has been here for 1½ years (much of the rest of the building is still under construction or renovation, and appears to be waiting for other tenants to move in) and the lady at the reception says all of the marketing efforts center around the Acquario, with no promotion of the Padiglione.
So I went to the Acquario. Expensive - L19,000. Good, I suppose. I was turned off by the entrance - a guy in a penguin suit grabbed me to have my photo taken, you can buy the photo on the way out if you want to. I was annoyed, it felt like I was getting mugged by a giant penguin.
Went to Internet Village in the northeast part of town (directed there by the tourist office) to do some Internetting on a very slow connection at L8,000 per half hour.
Returned to the hostel and ate dinner for L13,000. Instant spaghetti and bread, beer, yogurt, and white chocolate. I've eaten more white bread in the past week than I have in the past year, I think.
July 25
Left Genova early. I've lost my Liguria map so I'm going on roadside signs and the assurance of the tourist office that Levanto and La Spezia are on the same road. I think I'm not on the most efficient route. I climbed way, way, way up out of Siestra Levante through what I think was some sort of wilderness preserve. It was incredibly hot and a long, hard climb. Eventually, I found a turnoff to Levanto and began a long descent, more than six kilometers of pure downhill.
The midday siesta is a very good idea here, the heat makes exertion difficult. I hate to stop when I don't know how much father I will have to go, but I've adopted the practice.
Bicycles here seem to be mostly fitness toys, workout machines. Occasionally I'll see an older person doing errands in town, but most cyclists are fitness freaks, or at least want to look that way. There are mopeds and scooters everywhere. In Italy, at a red light the cars all stop and the mopeds and scooters weave their way up past the stopped cars to the front of the line. Ten or more may gather at the front. Then, just before the light changes, the motos are off like the start of a race.
Car drivers seem very accommodating to me, and wait for me in circumstances where Canadian or American drivers never would. Maybe they've been conditioned by the scooters and mopeds.
The guardrails on highways sometimes make me worry. They're pretty flimsy, although maybe it doesn't take much to hold back a Fiat 500. That's not the problem from my point of view, though. They are very low, and I worry about sideswiping one. They would hit me below the axle, and so tip me right over the edge and toss me over the cliff.
Levanto and the Cinque Terre
At Levanto, I had my first 100% Italian interaction in the tourist office. Nothing profound, mind you, but I managed to ask questions in Italian and understand the answers, with much pointing on maps. I bought food at two stores, including a large container of Nutella. Mm, sugar.
Three campgrounds were full, but the fourth let me in. I was not impressed by what Italians call "camping". A crowded, barren, place, costing L18,000. So much for saving money by camping instead of hostelling.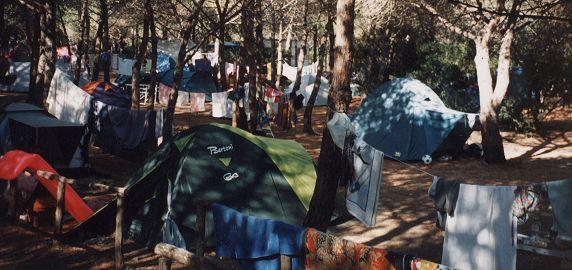 Later I went into town to see if I could find a schedule for the boat to Riomaggiore, so I could do the Cinque Terre walking trail. And I found out why the campgrounds were so full: it was the night of a big festival. The "Solenne Processione: Confraternite liguri con i loro crocefissi."
The town was packed with people, several downtown streets had booths selling food and various carnival-type things, and there were a few carnival rides set up. Even a beer garden. Then I heard a marching band and went over to see the parade. It was a procession of crucifixes, each easily 12-15 feet high with a Christ figure on it, ornamented with metal leaves. The cross was carried upright by one person using a special harness, and balanced against the person's shoulders. The crosses were evidently very heavy and the person carrying them had to be careful to balance the weight so it wouldn't fall over; they didn't use their hands to steady the cross. Each bearer had a team of colleagues, and from time to time they would pass the cross from one member of the team to another. This was a delicate operation in which the whole team held the cross up with their hands, the bearer got out from under it, and the new bearer quickly dove under it to take up the load. The cross bearers, all men, wore costumes of simple white or colored robes, and small caps. The teams represented local churches or other organizations. There were also occasional marching bands interspersed among the crucifixes, and at the end of the procession -- there were probably 20 or 30 crucifixes -- was a priest speaking through a loudspeaker, walking with a group of uniformed men who appeared to be local police or military officials, and a Christ figure on a litter.
The procession ended up on the beach, and the crucifixes were lined up on one side. As night fell, people cast floating candles into the sea, and a ceremony took place on a boat some distance off the beach, but I didn't understand any of it. When it was over, a really fine fireworks show took place.
[Text missing due to corrupted file]
The trail is narrow -- it was rare to be able to walk side-by-side or pass people coming in the other direction. Often sheer drops by the side of the trail. Scads of foreigners, of course.
Apparently the Cinque Terre region was, a few years ago, a quiet little seaside area, fairly inaccessible, and known only to a few. People say that Rick Steves' travel guide books changed all that, and now hordes of tourists descend on the area. Around the train station in Riomaggiore you see signs asking tourists to "do not disturb" after dark, to not throw glass away, and so on.
I took a train back from Riomaggiore to Levanto, L2,000 and change for a 20-minute ride which seemed like a subway train. Trains every half hour or so during the day. My first experience with the Italian railways -- a ticket sales agent who seemed supremely bored and uninterested in doing anything. I thought this might have been a reaction to hordes of tourists and rowdy backpackers from Mama Rossi's hostel, but he turned out to be typical of Italian railway staff.
July 27
Up early and rolled out of the campground at 9:00. Rode 70 km to Marina di Massa, which has a very nice hostel. There is a kitchen with coin-operated stoves, and interesting grounds with big hedges, all very picturesque. Had an interesting talk with my hostel roommates tonight.
July 28

Rode the next day to Pisa. I hadn't planned to stop in Pisa, thinking that I was above that sort of tourist trap, but you can see the leaning tower from the highway and when I did, I decided, what the heck. The tower is more striking than I had expected it to be. I ate lunch in the shade of the cathedral, and took a photo of the people taking photos of each other "holding up the tower". One was pushing it over instead. I hung around for a few hours in the general area of the cathedral and tower, found a beautiful corner of the university campus which is in the old city there, and then moved on to a campground called "Rada Etrusca" in a town called Vada. Typical campground but larger and cheaper, L12,000. I sort of regret not stopping in Livorno, which seemed like it may have been an interesting town but I was in a go-go-go mood today -- I'm now riding on the flat Etruscan plains -- and I didn't really feel like stopping.
July 29
Rode on and took a side trip to Populone, 5 km off the main road. I originally was headed for an archaeological park which sounded interesting, but instead went straight for Populone itself. The last one or two kilometres were a steep climb, but absolutely worth it. The view is incredible. On one side, the sea. On the other, all Tuscany is laid out in a stunning display with the mountains in the background. It's a bit out of the way, and uphill, but I still recommend it. There's a castle at the top of the hill which has a few touristy things but isn't really much.
July 30
Pressed on hard today. Had a siesta at Montalto di Castro / Montalto Marina. When I arrived (at about 2:30 pm), the place was shuttered and deserted. Not a person on the streets, everything quiet and deserted. (In fact, at the last campground, there was a sign proclaiming quiet time in the evening and also from about 12:00-16:00.) I guess the afternoon naps explain why people can stay up late and get up early, too. There are lizards here that seem to be analogous to squirrels back home. There's a kind of pine tree here, called "pinete", that is very tall with a bare trunk and all of the branches and needles in a tuft at the top of the tree. There is virtually no undergrowth in a pinete forest. There are also not many pinete forests, but I presume that at one time they covered much of the plain.
I had planned to get maps and a camping spot earlier, but I just kept on rolling until it was almost dark and I was on the road to Rome. I didn't find any place to stop for a long time and I had almost resigned myself to riding into Rome, when finally, only 35 km from the city, I found a camping ground. It's a seasonal campground, costing me L25,000, and there is a grocery store, video games, a bar, and family-oriented music and dancing. The music is a guy with a fancy electronic keyboard who sings. They were doing some kind of Italian line dance.
July 31
"Quickly" rode into Rome. Rome is like New York City in atmosphere and in traffic, but NYC has two advantages: (1) the streets are numbered and (2) the streets are straight. In Rome, no street is straight -- or if you do find a straight street, you're guaranteed that it will soon turn into two one-way streets facing each other in opposite directions. Plazas are everywhere, intersections are free-for-alls, horrible to drive in. Rome's cobblestone roads are also terribly jarring to the bicycle. (The advantages that Rome has over NYC are its parks and the water fountains, which are available all over.
When I was in high school, I went on a class trip to Europe. It was organized by the French department. In Strasbourg, our group crossed paths with a group of Italian students, and I got to chatting with a girl named Fiorenza Barazzoni. We spoke French together, that being the closest thing to a common language we had. We exchanged addresses and continued to write to each other for some time afterwards, but eventually the correspondence dwindled and stopped. Fast-foward to the present. When I started to plan this bicycle trip, I pulled out all my old souveniers from that high school trip, and one of the things I found was Fiorenza's address. So I wrote to her, saying I'd be passing through Italy and did she want to meet? I told her to send me a reply via post restante to Roma. Well, I wish I could say that we met and reminisced about high school, but in fact I never did hear from her.
I tried to find the Post Office, but it took me a long time of circling around the area. When I did finally find the Post Office, it was closed, although the posted hours said it should be open and several other people joined me in peering in the barred windows.
Hostel check-in was a mess. The process was to take a numbered form, fill it out, wait for your number to be called, and then proceed to the desk. But this was not obvious and the forms are only available from desk #2. The hostel was not pretty, but it was functional. L24k per night.
Rome is going to be expensive. Gelati are 1.5 to twice as expensive as elsewhere in Italy. Supper was a panino and a chocolate bar for L7000, not too bad I guess but it was a small sandwich and I eat a lot when I'm riding. I guess between that and the L6000 pizza for lunch (also not very substantial, frozen pizza from the hostel), I'm under budget but also under-satisfied.
Today I started to feel like I was tired of traveling. It's been four weeks in Canada and the USA, and two weeks in Europe so far. Maybe it's the heat, or the language difficulty. Or maybe I'm getting tired of cycling, of getting up each morning and just spinning the pedals. Traveling can be as monotonous as anything, I guess, if it is all you do. And my loneliness is having something to do with this as well. I wish I could share the experiences with someone. And yet, I find it fairly difficult to meet people, even in hostels. Other people do it, but I'm just not as good at it as they are.
August 1
I started the day at the post office, which was easier to find this time, but still tough. At least it was open. I was sent to the next building, where Post Restante was easy to find, but there was no mail for me. Oh, well. Next, I went to the tourist information office and got info on Ostia Antica. Open tomorrow, ok. Went to the "Enjoy Rome" office, which is a place catering to backpackers, where they run tours and book rooms. They're associated with one of the hostels. It seems pretty cool. I booked a walking tour for the evening.
Next stop: Vatican City. It is only open 8:45-12:45, there are no museums open outside that time. But St. Peter's Basilica is open until 6:00 pm every day, and it's free. And it's spectacular. It really made me think about how people must really crave grandeur and spectacle... and it made me think about how many people paid for it. It's amazing, it's imposing, and it is actually beautiful. Hundreds of years of history in many of those objects. But the money, the resources that have gone into it! I really got the message that Catholic Church is a huge worldwide power, a government of sorts, with its capital right here before me. I thought of one of my favourite books, A Canticle for Leibowitz, and the continuity of history. There is a wall with the names of the popes, from St. Peter to John Paul II. The wall bears dates from 64 to 1978; there is space for another 500 years before they will need a new wall. It's huge, impressive, intended to overawe people with the glory and power it represents.
I've always had simpler tastes, myself. I never understood, for example, why I should spend my money at a store or a bank with fabulously expensive decorations. Clearly they're spending my money on the decor. Shouldn't I instead commit my resources to the place where things are spent efficiently on the minimum required for performance? Not on frills? But I think I was wrong. People don't respond well to simplicity, they respond instead to ostentatious displays of wealth, and the Vatican exemplifies this.
Tip for travelers: carry trousers in your pack, and change in the free toilets next to the Vatican tourist info and souvenir shop. They do check your clothes as you enter the basilica, and they don't like shorts.
The "Treasures of St. Peter" is a display of gold and jewels and old artifacts. Not worth the price of admission, in my opinion. A walk through the catacombs is free and interesting -- probably a lot more interesting with a guidebook though. It consists of old artifacts, epitaphs, some views into some private prayer rooms, and the tombs of the popes.
I sat on St. Peter's Square for a long time. Then I biked to Lepanto metro station, where I parked my bike and took the metro to Colosseo station to meet the walking tour group. (It's sort of funny to think that long after the Colosseo stopped being a major sports venue, there is now a metro station there, as if ready to transport football fans to and from the grounds.) Bought a panino for L6000, not as good as the one I had in the park.
The tour began. Our guide was Tracy, from Portland, Oregon. She's tired of Rome, and a little tired of guiding too, I think. Or maybe, as she said, she was out drinking all night and still hadn't recovered. She was less than inspiring, but the tour was worthwhile nevertheless. We saw the Colosseo, the Fora, and so on. It was a three hour tour, and it was useful to get an overview of central ancient Rome. I planned to return to the Forum area later. She recommended visiting the Pantheon later, and the museum in Villa Borghese (but you need to go early and make an appointment for later in the day). But she was correct about one thing: at least now I don't feel that all I saw was a bunch of old rocks and buildings.
The Piazza Navona was interesting. The local equivalent of California's 'Robot Boys' here, all dressed in white. These are the guys who stand stock-still on a pedestal until you drop a coin in their bucket. Then they move mechanically. Generally, the more you give, the more motion you get. Singers were serenading the diners at sidewalk restaurants, just the way it ought to be. On my way back to collect my bike, I stopped and listened to an outdoor concert at Castel Sant'Angelo.
August 2
I got up early, paid for another two nights, and was moved to another (smaller, hotter) room. Then I hit the road for Ostia Antica, with a stop at a supermarket on the way. The distance was 37 km, but I didn't take the most direct route and I did backtrack at one point.
Ostia Antica is absolutely worth the trip. It is an entire ruined city, mostly dating to the the 2nd century, but ranging from the 1st to the 4th. Some kind of guidebook is essential; but the pamphlet I got at the tourist office in Rome was adequate, though, to have some orientation and some idea of what you're looking at. It's really quite amazing. You can wander among them freely, touch almost anything, climb on almost anything. A few sensitive areas, or areas where excavation is proceeding, are closed off, but most of the site is open. And it's not crowded! The city is quite large and you don't encounter many tourists. Occasionally you meet others but for the most part you feel like you're exploring on your own. Around the next corner, what will you find? A corner of a floor mosaic is revealed, hinting at what remains covered. A faded fresco or a broken statue. A stack of columns, lying on their side. A fishmonger's table intact and ready for the cleaver. Mosaics proclaiming "bibe" (drink) with cups, or the marking the entrance to the inn of "Alexander Helix". Really, really fascinating. I spent five hours inside, including time for lunch. There's also a museum inside, where some of the more delicate frescoes and so on have been moved, but it wasn't open at the time I was there.
The ruins have been restored gradually over the years (small tags date the restorations, some of which are 80 years old). There are still many areas not yet uncovered. Some areas are partly uncovered, others are still buried and you can see from the way a wall disappears into a hillside that there is much more hidden below the gentle slope.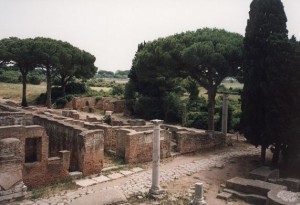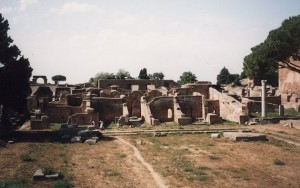 August 3
Today is the day I sit in Rome and think about leaving it. This morning I found a German coin in my locker, and wondered if it was a sign.
I went to an English bookstore for some travel guidebooks. It was a difficult journey, with one-way streets, must-turn designations, even a street with numbers ascending on one side and descending on the other, but all of Rome's tricks could not stop me, I prevailed and found the place. I bought a Lonely Planet guide for Germany, and one for Prague.
I wandered through the Imperial Forum (not so interesting, not after Ostia Antica) and around the Colosseo. I sat in the gardens behind the Colosseo, saw an exhibit of Tolkienesque art from the local fan club (the "Societa Tolkieniana Italiana"), and spent a few hours reading my books, deciding where to go. In the end, my destination was decided for me by the Italian railway.
On the walking tour, Tracy had told us a story about one emporer who was displeased by the amount of applause the people gave him as he entered the Colosseo. He had the exits barred and had the roof opened completely. People died of heatstroke. (Did you know that the Colosseo had a movable fabric roof? So many centuries later, we still have trouble with movable stadium roofs.) Anyway, I had a flashback to this as I stood in the queue in the train station and watched three idle Ferrostradale employees chatting together and looking out at us through their window.
The ticket agents are monumentally unhelpful. Well, perhaps that's unfair. The agent that I dealt with was monumentally unhelpful, I suppose I can't generalize. His every action showed a complete lack of interest or desire to help. Even when he pushed my ticket and change through the window, he didn't actually push them through; he laid it on the counter on his side of the window so I had to stick my hand through the small hole to get them. I noticed that he also had his "Aperto" (open) sign upside-down. Deliberately, I wonder?  (I did in fact receive the refund -- two years later! I don't know whether I was more surprised that it took them two years to process it, or that after two years they still bothered to send it.)
But I screwed up. I bought a ticket to Vienna, and then I mentioned my bicycle. Oops, should have mentioned the bicycle first. After running around to two or three other windows, I determined that the only international train from Rome that carries bicycles is the one to Munich. Can I get my ticket changed? No, I have to buy a new ticket and then apply for a refund of the first one. The form, by the way, says that non-use of a ticket does not necessarily constitute grounds for a refund.
Despite those difficulties, I'm in a very good mood. I started out by actually finding what I was looking for, despite the one-way streets. I succeeded in finding my way around. I had a siesta. I fought with the train station, which should have destroyed my morale, but I ended up feeling ok, I guess. I ran into a family from Canada who boosted my spirits, and I told them to visit Ostia Antica. Rome is difficult, it's annoying... but I am getting the hang of it. I'm starting to figure the city out, and its perversity is becoming vaguely amusing.
August 4
Departure day. I went to the train station early (I had trouble finding it again) to see if I could check my luggage, and found out that I couldn't. Then I went back to the Enjoy Rome office. The girl I had earlier thought was nice turned out to be quite spinny and I got the general idea that the main qualifications for working there were (a) drinking lots of beer with the guy who owns the Faulty Towers hostel, and (b) the ability to show up for work hung over every day.
I went to an Internet cafe, then returned to the train station and found my way into the train. I was so excited that I forgot to cancel my ticket on the platform. I found the conductor and asked him what to do; he spoke no English but managed to tell me to stamp it when we stopped in Florence. Va bene.
There's a whole bicycle car on this train. It was a scene that appealed to me. I linger in the station and when I ask a conductor if I can get on any car or if there are seat assignments, he says pick any seat, but hurry, we leave in three minutes. This train has six-seat compartments. I suppose that's great if you're traveling with five friends. The train is Deutsche Bahn equipment with an Italian crew.
Night trains are another reason why it might be nice to travel with someone. I was bored, wishing I'd bought postcards to write, or something. I kill time with a sandwich. The advantage of night trains for budget travelers is of course that they save you a night of accommodations. The disadvantage is that I bet this train goes through some pretty spectacular scenery, and I didn't see a thing.
June 19 Winnipeg - Steinbach
The day before I was to leave on my trip, I got a flat tire, my first of the year. Not a good omen, I feared. But I loaded up -- way, way up -- and hit the road. It took me a long time to pack, re-pack, and re-re-pack, and I didn't leave until the afternoon. I stopped for groceries near home, and when I parked, someone asked me where I was from and where I was going to. She was disappointed when I told her I lived a few blocks away.
It was 3:00 pm by the time I left the grocery store. My trip out of the city was very slow, I kept stopping to adjust my load. The sky was fairly clear when I left the house, but it began to pour rain as I reached the edge of the city. I quickly donned my rain suit. I hit a pothole and nearly lost control and crashed into traffic. Although I had made a few loaded training rides earlier in the summer, I had never really put the full load on the bike at once before, and I was carrying more than I should have been. The bike was more heavily loaded than it ever had been before and I wasn't used to handling it.
One-third of the way to Steinbach, my left knee began to hurt. I adjusted the cleat on my new clipless pedals -- a tiny change in alignment, multiplied by thousands of strokes of the pedal, can make your knee rather sore.
The weather cleared up, setting the pattern that I would see for the next two weeks: short, heavy cloudbursts.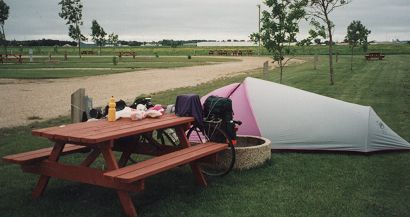 When I arrived at Steinbach (from the north), I thought I'd go to a campground that my guidebook said was 1.5 km south of town. I never did find it, though, and had to double back and stay at the campground north of town.
The Steinbach campground was a good place. They charged me $5, and although there were no trees or other shelter of any kind, the washroom and shower facilities were excellent. Supper was pasta and tomato sauce, some hummous mix, half a tomato, and cheese.
I worried about my knees a little bit. I had a hard time walking when I got off the bike (that was something I was to get used to -- after spending hours pedaling, it takes a while to readjust to a walking motion!) and my knees are more sore than I expected them to be. However, I felt very good about having arrived at my first destination, all of 56 km from home, and everything generally felt right. I already knew this was where I wanted to be and what I wanted to be doing.
June 20 Steinbach - Vassar
I thought about getting a "powered by CBC" bumper sticker. I listened to my walkman radio all the way here, and found it to be very good company for riding. My home station is fading, though, so I'll have to switch to a new one tomorrow. Knees still bothersome but less so than yesterday.
The mosquitoes here in the Vassar campground are terrible. If I keep pacing back and forth, they're not so bad, but whenever I stop, they attack. I wore my complete Goretex rain suit to wad them off -- anything thinner and they bit right through it. And Muskol. Evil, poisonous stuff, Muskol, but it works.
Camping was free in the municipal park, but there were no facilities except a water tap and an outhouse. Roughing it but free; I enjoyed that, despite the mosquitoes. This is obviously the place where people come to drink on weekend nights; don't pitch the tent next to the firepits with the broken beer bottles.
June 21 Vassar - Baudette
Got up good and early today, and with a fabulous tailwind I arrived in Warroad, Minnesota, by 11:30 am. Cruised at over 30 km/h for much of the way from Vassar.
"Clips" are those straps that go over your feet on some kinds of pedals. Clipless pedals have sockets on them that match sockets in the soles of special shoes you buy, and attach your feet quite firmly to the pedals. They ensure that your feet are held in the optimum position for pedaling, and allow you to pull up as well as push down on the pedals. They are a must for serious cyclists. However, they take some getting used to because when you stop riding, you cannot just lift your feet from the pedals and put them on the ground; you have to twist your feet sideways to release them from the sockets. This movement takes some practice before it becomes instinctive.
The fellow who sold them to me -- I bought mine for the first time shortly before leaving on this trip -- warned me that no matter how often you practice it, everyone fails to do this properly once, and falls down in an embarassing situation. It might not happen right away, but it will happen. Of course, he was right. For me, it happened about two weeks into this trip.
The border crossing was a sleepy little place, with very little traffic. The guard was surprised by me. It was raining again. He asked "why are your pedals half the size of normal ones?" I explained clipless pedals to him. He asked me why I was riding from Winnipeg to Toronto. My holiday! I said. He shook his head. Crazy guy. Ok, have a good trip.
Needing a map of Minnesota, I stopped in at the Warroad tourist information office, which is around the back of the liquor store. It also happens to be closed weekends. I went to the gas station instead. The clerk didn't even look up at me when I approached the till. "Gasoline?" she asked. "No," I laughed.
Good road conditions from Warroad. A narrow shoulder, the kind that gets you into more trouble if you use it than if you don't. A construction detour was annoying but there was new asphalt after the detour, which made up for it. Tailwind almost all the way. Traffic light and polite. The rain was annoying. Every time I stopped to take off my rain gear, another shower hit, but only for a few minutes. I didn't want to spend my whole time dressing and undressing, so I stayed in Goretex the whole day. Already my cycle-glove tan is getting quite noticeable.
A woman stopped me on the road with encouraging words. She was a teacher from Warroad, and had cycled the River Road bike trail from New Orleans. We chatted a few minutes. It was really nice to talk to another cyclist.
At the Baudette tourist information booth, I had a nice chat with the very friendly lady there. She surfed the Internet for me to get a list of NPR radio stations -- it will be good to have something interesting to listen to while in the USA.
The Baudette campground is city-run, the fee is supposedly $3 and collected by the police, but they never came by to collect it from me. Low-grade facilities, but hey, what do you expect for nothing? The municipal campgrounds are a good deal for people like me. One RV was parked here tonight, and I talked with its man. He sympathized with me on the headwind issue, he said loses an extra 1 mpg in a headwind because of the huge frontal area of the RV. The poor guy. He had a satellite dish.
Found a tick on my arm today (not yet dug in), which led to all sorts of twisting and turning in front of the bathroom mirror to try and see if there were any other passengers on inaccessible body parts. Nope. Also turned all my clothes inside-out before putting them on.
Knees a little bit sore, still, although at one point I had a feeling that I had clicked-in and had reached the point of no more worries. 130 km today, which I thought was quite an achievement.
These early nights are strange for me. It's 8:10 and I have essentially nothing to do but go to sleep, even though it's not quite dark. But early to bed, early to rise, makes a lot of sense out here on the bike.
June 22: Baudette - International Falls
Chatted with the RV fellow again this morning. I was up by 6:00, on the road by 8:15. Partly cloudy, wind fair. A few rainy spots but the rain was always light and never lasted more than a few minutes. The road was good, highway 11 has very light traffic.
International Falls seems a fairly generic "small town USA". I suspect the main industry is catering to vacationers going fishing. The urban campground here was $7 and adequate but nothing special.
June 23: International Falls - Orr
Delayed start this morning. I started feeling really insecure about not having checked my email in a long time. I was afraid of losing mail due to an overflowing mailbox. So I went back to Top Ten Video, which is the local hotbed of high technology (video rentals, computer sales and servicing, Internet service provider, and oh yes, a tanning bed) in the hope that I would be able to check my mail from there. Annoying to have to wait until 11:00 when they open.
I haven't been doing much thinking about life, the universe, and everything out on the road, as I thought I would. It's more difficult to think than I expected. My mind sort of goes numb, and I slip into the rhythm of just getting there. I'm also starting to talk to myself more.... I feel strangely alone, both on the bike and in the campgrounds. I chat briefly with the RVers, but we generally have nothing at all in common, so the chats are brief and polite.
It turned out that Top Ten Video didn't have a terminal I could use to check my email, so I cruise onwards, annoyed but at least satisfied that I tried. If I hadn't tried, I'd be thinking about it all the way to the next town.
Looking for a campground this evening I stopped at a national park information centre and chatted with the fellow there who told me about his 35-day solo canoe trip in the Boundary Waters area. He lived on rice and oatmeal, fish that he caught, pine needles, and mushrooms. Hard core.
I got depressed again tonight over paying $13 for an unlevel campsite that clearly is a water channel when it rains, and for not having made as much progress as I wanted because I left late. The campsite, Pine Acres near the town of Orr, is way overdeveloped. This is resort country.
The trip already feels long. I'm already straining to reach back for things that happened only a day or two ago. Everything feels like it happened so long ago.
Duluth
The ride into Duluth was a nightmare. I pushed too hard, passing up several opportunities to stop, and ended up riding into town in the dark, after having three flat tires in one day, due to bad road conditions, construction, and my overloaded condition. The next day, I went to a bike store and had an overhaul done, including a new rear wheel. That forced me to wait a few days, killing time.
There wasn't much to see downtown, but a highlight for me was Carlson Used Books on Superior Street. It's a huge used book store, probably the biggest I've ever seen. Well worth a visit if you like browsing through used books.
Canal Park was nice enough, and I really liked the Lake Superior Maritime Visitors' Centre. It's an Army Corps of Engineers museum about shipping on the Great Lakes. Free, and very interesting -- to me, anyway.
There is a former lake ore freighter, now museum ship, the William A. Irvin, near the convention centre. The guided tour is $6.50, I thought it was worthwhile. Admission to the Irvin also gets you into the tugboat next to it, which is a self-guided tour. I found the tug quite interesting too. I am fascinated by ships, possibly because I grew up on the prairies in the middle of North America, which is about as far as you can possibly get on this planet from an ocean.
June 30: Duluth - Brule
Finally hit the road again. Rolled out late (meaning about 11:30 am), and managed only 73 km today. More than 20 km of that was within the Duluth-Superior urban area. It was a little tricky getting onto the sidewalk of the bridge from Duluth to Superior (the southern bridge, don't take the Interstate bridge), I had to lift my bike over the concrete barrier, but once I did it was a nice ride. Riding through Superior was one of those experiences that I had so many times on the trip: looking, it feels like I'm in a very odd place and I must have made a wrong turn somewhere, but if I keep on going I eventually come out where I want to be. The road was good, but traffic heavy, although there was a shoulder part of the way.
I popped my front tire, patched it in a grassy ditch, then blew it again when reinflating. Put on a new tube that I had bought in Duluth.
Camped in Bois Brule State Forest Campground. A very nice campground, minimal facilities but beautiful setting. Lots of people here, including a church youth group of about fifteen people. A kid from the church group came over later. He looked at my bike, and said that he raced Schwinn mountain bikes. He told me that Schwinn was considered to be a really good name these days. He was quite a keener. I'm going to have to get technical!
By the way, Brule is apparently pronounced "brool" by locals (rhymes with "drool"). Those of you who speak French may now roll your eyes and heave a sigh for those poor unilingual Americans. (Bois brulé is French for "burnt wood.")
July 1: Bois Brule - Wakefield
Last night, a woman doing a car-top cycling trip came by. ("Car-top" meaning that she and her partner avoid the endless hours of drudgery by putting their bikes on the roof of the car and skipping over the boring bits.) She asked if I knew how to attach her seat-retaining wire system. We puzzled over it for a while and couldn't figure it out. We chatted for a while. During the night, I dreamed about it, and the next morning, she stopped by again as I was packing and I solved it!  We traded addresses.  (We kept in touch and had what turned into a fascinating and rather intense email correspondence for a long time.  I did see her again, eventually, but sadly it all fizzled out anticlimactically.)
Riding today was pretty easy. Pavement condition was good except for an under-construction area leading into Ashland. Good distance today! Can't find camp fuel in anythingn smaller than a one-gallon container, though, which is way too much to put on the bike. And I discovered "Snackwell's" fruit granola bars, delicious.
I listen to the radio while riding, usually a National Public Radio station if there's one in the area. This morning, the host of the radio show I was listening to spent an hour talking with a person from Canada. In the introduction she made a big production about how Americans don't know much about Canada, and how today was Canada Day which is sort of like the Fourth of July, and so we're going to talk with a Canadian. She talked with a woman who grew up in New York City, then went and spent ten years living in the bush on the Queen Charlotte Islands, far from electricity or telephones, living by hunting and fishing. That's who they found to educate listeners about being a typical Canadian?
Wakefield campground highly recommended. Nice showers. $5 tent sites. Even a lake where people were swimming. Met two retired guys from New York who were motorcycling to Montana. We chatted, and although I said I would go over and visit them later, I never did.
The Upper Peninsula of Michigan is wide, 500 km. I want to get to Sault Ste. Marie as soon as possible. I'll count on five days, but I did manage 155 km today....
July 2: Wakefield - Van Riper State Park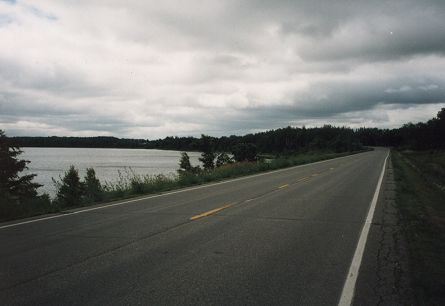 A good day. Pavement condition good to excellent, narrow shoulder. I stopped at Bruce Crossing, and dropped the bike in the parking lot of the Co-op store. Very embarrassing.
I talked with a really excited guy who was planning to do a one-day 100 mile ride soon. I told him to expect that he probably wouldn't be able to walk for an hour or so afterwards, but otherwise it shouldn't be a problem.
I pushed hard. My rear tire has a slow leak and I have to pump it up each morning. I still need fuel. I'm worried about encountering full campgrounds on the holiday long weekend.
July 3: Van Riper State Park - Munising
Today 129 km but I feel tired. The wind was unfavourable for part of the day, and the pavement from fair to excellent. Fair number of hills. The descents seemed to make up for the climbs, but I still feel more tired than I expected. An uneventful day. Cool, some light drizzle in the morning. Tomorrow may be rough -- I'll be tempted to push straight through to Sault Ste. Marie.
I went shopping in Munising, and when I came out, two kids on bikes said hello. We talked for a while, and I told them what I was doing. They were a little skeptical about why I was doing it and how far I traveled in a day. The kicker was, they asked me, "where's your wife?" I said I wasn't married, and they wanted to know why not. Hm. Does that say something about the town? Or about me?
After doing my grocery shopping, I went to the local tourist information office. When I asked, "what can you tell me about campgrounds around here," the harried-looking woman pulled out a map and started crossing them off. "That one's full, that's full, they're full...." She phoned "Wandering Wheels" and the line is busy. Her co-worker called over "I just phoned Wandering Wheels a few minutes ago, they still had some spots left." I hurried out to try and beat the crowds of RVers that I imagined were racing me to the campground. Well, Wandering Wheels is uphill from town, so any RVs that were racing me had me beat, but I got in. It's a luxury RV park, with heated swimming pool, laundry, and so on. It cost $18, yes eighteen big fat American dollars. I guess on the long weekend they can charge anything they like. I did manage to get completely clean, though, and to wash all my clothes properly for the first time.
For the first time? Yes. I've been following what seemed to me like a very good practice, that was recommended by other cycle-campers, but maybe looks odd to other people. I have two pairs of bike shorts, two T-shirts, and two pairs of socks that I wear when cycling. (I also have a long-sleeved shirt which I wear when it's cooler, and some other clothes I call "street clothes" which I don't wear while riding.) Each night, I wash what I'm wearing, or at least rinse them out. During the day, the wet clothes (shirt, shorts, and socks) are strapped to the outside of my panniers and they dry off flapping in the wind down the highway. So my clothes aren't super-clean, but they're good enough for what I'm doing. Some things, though, like my cool-weather jacket, long pants, and sleeping clothes never get washed though, so they were getting pretty ripe. It was good to do laundry.
July 4: Munising - Soldier Lake National Forest
Slow leak in rear tire, but no blowouts. A variety of pavement from poor to excellent. The "Seney Stretch" (their phrase, not mine) is a long, straight, and level piece of highway alongside railway tracks; everything else was slightly rolling.
A hundred and forty-one kilometers and the radio is playing nothing but John Philip Sousa marches. You think I'm kidding, don't you? I'm not. Well, later in the day I did get a country station with Shania Twain singing "I gol' darn gone and done it." I wasn't sure that was an improvement.
I put off my grocery shopping today until I got to the last town before my goal, a town called Strongs. There was no grocery store, just a gas station which was actually more of a bar, although it did have a sign saying "food store" out front and a few shelves of groceries along one wall. And a pool table. The loaf of bread I bought turned out to be completely moldy when I opened it at the campground.
I arrived at Soldier Lake National Forest campground to see a "Park Full" sign scrawled at the campground entrance. I asked anyway, and was directed to an "extra" site which was un-numbered, vacant, without picnic table or fire ring -- but it was free. Makes up for the $18 last night, I guess.
July 5: Soldier Lake National Forest - Sault Ste. Marie
Stopped in Sault Ste. Marie for a couple of nights and hung out. It's a large town whose most notable feature is the St. Lawrence Seaway locks. I went through my luggage, removed some excess weight and mailed it home.
Oh, a minor triumph: after searching the USA for two weeks for small containers of fuel, I walked into a Canadian Tire in Sault Ste. Marie and found the familiar 1-litre bottle ready and waiting for me. Yay!
July 7: Sault Ste. Marie - Sault Ste. Marie
About 35 km outside of town, I stopped to inflate my still-leaking rear tire. And here I was not careful. I dragged the tire across the ground, catching it on something sharp and slashing the tire. I eventually patched it with duct tape. Duct tape can solve any problem. We could solve world hunger with duct tape, if only we could figure out where to put it. So I limped back to SSMarie and bought new tires. Larger ones -- I replaced my 700x23 with 700x26, which reduced my tire problems for the rest of the trip.
So I left again and camped at "Bell's Point" ($15). I've pedaled 86 km and haven't even made it out of town yet.
July 8: Sault Ste. Marie - Sprague
A good day for distance: 161 km. Wind was favourable. A terribly day for road conditions, though. No shoulder much of the way, and lots of big trucks. Dove into the gravel many times to avoid them. I took a rest at Thessalon because I was getting discouraged and scared. I was almost ready to try and find motorized transportation to Espanola. But I met a cyclist coming the other way (Toronto to west coast) and he assured me that the highway gets better. It did, but not much. Tomorrow only 69 frighteningly hellish kilometers to go before I reach the turnoff to highway 6. The other cyclist said you can go half an hour on Manitoulin Island without seeing a car. So tomorrow I ride like hell to Highway 6, then, well, it's 186 km to the ferry dock.
Today while I was having lunch at a roadside picnic area (no water! One of the ways the USA is better than Canada is that the rest stops all have water) and chatted with a man who finally said the line that I've been waiting to hear. (It's from Soul of a New Machine, and when I read it, I thought, that expresses me perfectly, and I hoped someone would say it to me.) I explained what I was doing, where I was going. He asked if I was riding for some special cause. I said no, this is my holiday. He laughed. Fun? "By God, I'd hate to see you work!" That's right, mister, this is what I do for fun.
July 9: Spragge - South Baymouth
Distance today: 187 km. Wild! Spragge to Espanola was hairy, but south from Espanola on Hwy 6 was beautiful riding, winding and hilly, steep climbs and screaming descents. A beautiful area, and the traffic very light. Until Great La Cloche Island, the stepping-stone to Manitoulin. This is low-lying, barely above water level, desolate-looking, with few trees. The wind howls in from across the lake and over the barren islands. Manitoulin Island itself was also no great scenic attraction, at least on the side of the island where I was. The cyclist I met earlier told me that the western part of the island was nicer, and that Gore Bay is worth a side trip. I didn't go, I concentrated single-mindedly on my destination.
Camped for $14 at South Bay Resort. It's a good place, good showers, the tent sites are on the beach which made them a little windy but not bad.
July 10: South Baymouth - Owen Sound
Got to the ferry early and met cyclists. Wow, did I meet cyclists! A group from the Ontario Cycling Association on an 8-day supported ride, very nice people. A bunch of kids from Michigan with flags and no bike shorts. ("Amateurs," laughed the OCA people.) One OCA guy had a recumbent bike. I think there were 50 bikes on the ferry!
Rode 127 km today, and camped in an RV/seasonal campground called Sunny Valley, 10 km south of Owen Sound. $15. Two bored kids came over and "helped" me unpack my bags.

July 11: Owen Sound - Toronto
When I arrived in Toronto, I was euphoric. I had done it! I'd ridden all the way from Winnipeg to Toronto under my own power, no rides from anyone! I wanted to shout it from the rooftops. The ride into the city was exhilarating. I plunged into the city of noise and people and activity -- and automobile exhaust -- zipping through traffic. It was a thrill to be back. Today while I was having lunch at a roadside picnic area (no water! One of the ways the USA is better than Canada is that the rest stops all have water) and chatted with a man who finally said the line that I've been waiting to hear. (It's from Soul of a New Machine, and when I read it, I thought, that expresses me perfectly, and I hoped someone would say it to me.) I explained what I was doing, where I was going. He asked if I was riding for some special cause. I said no, this is my holiday. He lauostel on Spadina. It's quite a nice hostel, better than HI's Toronto facility actually. It's fairly large, has a good-sized kitchen, a patio, and a common room. There's even a bar inside the hostel, although I personally didn't consider that to be one of the selling points.
The people, though, seemed different from the crowd at HI, and I didn't really like them. On Saturday night, everyone went up to their rooms to do their hair and get dressed, then came down to the hostel bar to pose and look cool. Maybe it was just the contrast with living in campgrounds for three weeks, but wow, they were dressed to kill. It was weird to have a bar scene right in the hostel. And they didn't generally seem like backpacker types. I remember HI hostels as being much less pretentious, everyone was friends and much more honest and real than they were here.
I did meet one girl from Australia who was real, and a fellow from the UK with a wild story. James is 55, and quite the traveler. He used to work for a company in Saudi Arabia, and one of his benefits was a free trip home every four months. But instead of going home, he combined his trips and took a whirlwind round-the-world trip every year for ten years. He had arrived in Toronto by buying a bike in a thrift shop somewhere in Wisconsin, riding 30-40 miles a day to Duluth, walking from Duluth to Thunder Bay through the bush, then taking a bus to Toronto. He's a non-stop talker, and something of a teller of tall tales I think, but if there's any truth to any of it he's got quite a lot of experiences behind him.
Off to see Toronto. I've been here many times, so I didn't want to see many tourist locations. My first stop was Mountain Equipment Co-op. I didn't have room to carry much more, but I always enjoy touring the MEC store. I did end up treating myself to a new pair of cycling gloves, a new water bottle, some tire levers, and liquid soap.
Went to Harbourfront, and rode the bike/rollerblade trail east to Tommy Thompson Park, which is a landfill jutting out into the lake. Makes a good view of the Toronto skyline. There were hordes of rollerbladers!
Returning home, I got stopped in traffic by the crowd spilling out of a bar which was apparently the French soccer fan headquarters, celebrating France's victory in the World Cup.
The next day, I biked out to the airport to pick up my plane tickets only to find that I couldn't pick them up except on the day of the flight. Then joined my father and grandmother, and spent the next few days doing family things.
July 16: Flying from Toronto to Nice
Ok, now I'm really starting to get excited. I spent all morning trying to reduce my baggage weight, without much success. If this were a non-camping trip, I could carry everything in a fairly small backpack. But the fact that I'm camping means I have to carry tent, sleeping bag, Thermarest, cooking equipment. I considered switching to a hostel-only trip, but decided I should keep my camping equipment.
On the plane, I laughed out loud at Bill Bryson's Neither Here nor There. Try to get some sleep....